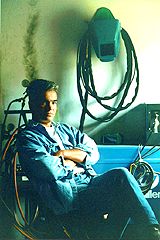 Sculptor Hossain Amjadi graduated from the Academy of Art in San Francisco majoring in sculpture. He has been sculpting since 1982 and in 1993 founded Art Forms.

Art Forms objective is to create artistic, and esthetic sculpture elements into the environment. Although we provide a wide selection of sculpture, we also enjoy integrating the client's ideas, incorporating all aspects of design and artistic sculptural elements in architecture, landscape and interiors.

Through the use of computer graphics we provide a cost effective way to view and scale sculpture into a selected site, allowing you to visualize sculptures into your setting of choice before purchase.